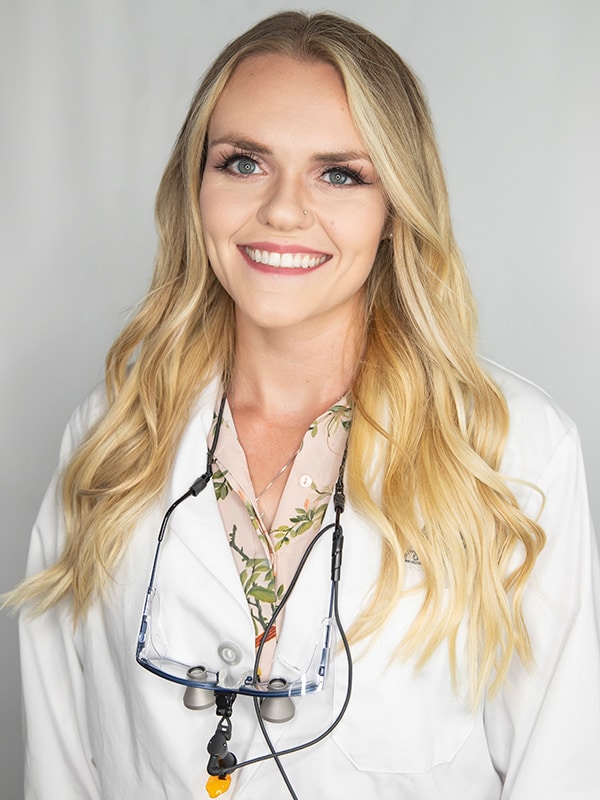 ---
Born in Mississauga
Honours BSc in Biomedical Science
Doctor of Dental Surgery
Advanced Education in General Dentistry
Co-author of Paper on Dental Treatment Modifications for Patients with SLE
---
Dr. Brookelyn Pettigrew has a passion for dentistry. In fact, she loves teeth so much, there is one tattooed on her hand! After completing her DDS from the University of Toronto, she's really ecstatic to be back working in the Guelph area.
Throughout Dr. Pettigrew's schooling, it became clear how much of an impact dentistry has on peoples lives. This lead her to be Co-President of a University of Toronto theatrical performance, where proceeds helped provide low-income patients with dental treatment. After spending the last year treating marginalized patients, Dr. Pettigrew made it a top priority to find a practice that shares her philosophy of giving back to the community. "I loved how involved Bisson Dentistry is in Guelph. From free dental days and sports sponsorships to volunteer work and Random Kindness Days. I want to be a part of that!"
Throughout her residency, Dr. Pettigrew was exposed to a wide range of patients with complex medical and treatment needs, allowing her to better serve her current patients. Working with marginalized populations has also fostered her passion for preventive dentistry, and has given her invaluable experience treating highly anxious patients. "I have made it my mission to create a tranquil environment, so that people can feel comfortable and at ease during their dental visits."
Dr. Pettigrew shows proficiency in all facets of general dentistry, however her specific interests include oral surgery, cosmetic and pediatric dentistry.
Outside of the office, Dr. Pettigrew values staying active and enjoys running, hot yoga, and weight training. Dr. Pettigrew also prioritizes quality time with family and most weekends you can find her relaxing in nature at her family's cottage or cooking!
---