Dental Implants in Guelph
Bisson Dentistry provides dental implants in Guelph, Ontario. Call 519-821-3561 to learn more and schedule an appointment.
Dental implants are the preferred solution for addressing tooth loss because they are the only option that replaces teeth both above and below the gumline, preventing bone loss in the jaw. The result is a stronger bite, more stable restoration, and more youthful appearance. 
We offer the following implant-based restorations at Bisson Dentistry: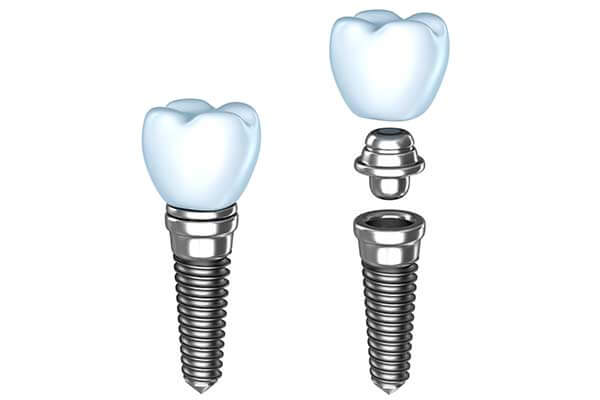 ---
Single Tooth Dental Implants
---
Single-tooth dental implants are used to replace an individual tooth. These restorations have three components: the dental implant itself, which replaces the root of the lost tooth, a crown, and an abutment piece that connects the two.
---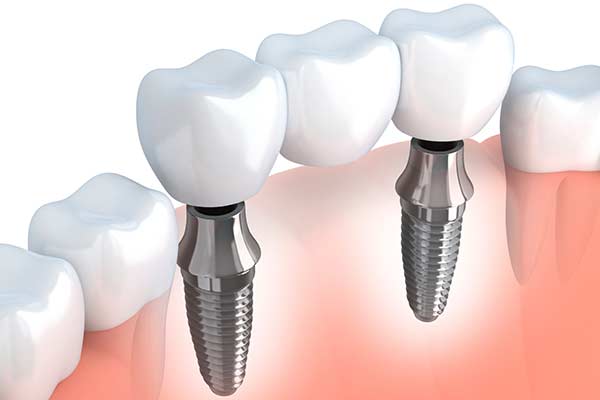 ---
Implant Supported Bridges
---
When three or more adjacent teeth need to be replaced, implant-supported bridges are an ideal solution. Two dental implants are used to replace the outermost teeth; these implants are used to support a porcelain bridge. This solution restores your natural teeth in both function and appearance.
---
---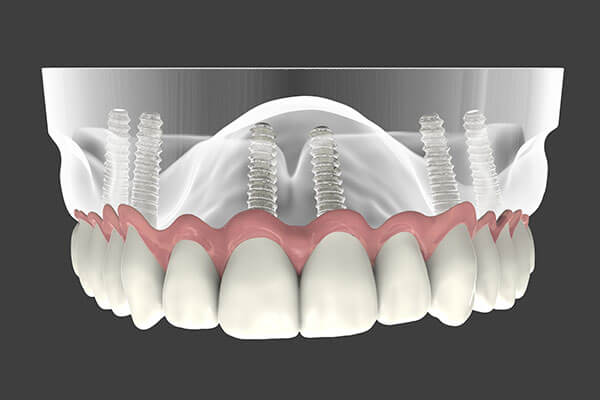 ---
Implant Supported Dentures
---
Implant-supported dentures are recommended for patients who are missing most or all of their teeth. Because they are supported by implants, these restorations are more stable and comfortable than traditional dentures. An implant-supported denture can be full or partial, and fixed or removable (snap-on). A partial denture requires at least two dental implants for support, whereas a full upper or lower arch requires at least four dental implants.
---
---
Full Arch with Only Four Implants
---
This is a unique same-day dental implant solution that allows us to replace a complete upper or lower arch of teeth with just four implants.
---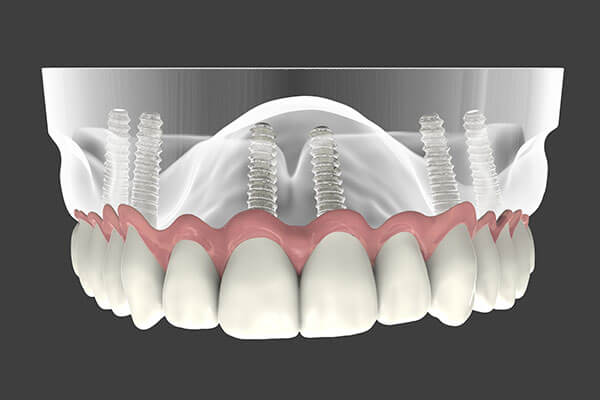 ---
Mini Dental Implants (MDIs)
---
For some patients, traditional dental implants are not an option. In these cases, we may be able to use mini dental implants instead, which have a smaller post size and require less jaw support. Mini dental implants and the restorations that attach to them may be placed in one visit, and the procedure is minimally invasive, requiring only local anesthesia and no sutures.
---
Mini Dental Implants (MDIs)
---
What is a dental implant?
Dental implants are biocompatible metal screws or posts that are inserted into the jawbone to anchor dental restorations. Your jawbone integrates with the implants after surgery, creating a strong foundation for a denture, bridge, or crown.
What are the advantages of an implant supported bridge?
Porcelain implant-supported bridges look and feel natural, restoring both function and appearance after teeth are lost. These bridges are superior to traditional bridges for most patients, since they do not require the support of neighbouring teeth.
Why should I consider implant supported dentures over traditional dentures?
The most significant benefit of implant-supported dentures is that the dental implants that support them help prevent and even reverse bone loss in the jaw. Implant-supported dentures are also easy to clean, feel more natural than traditional dentures, and last longer.
How are mini dental implants different from standard dental implants?
Mini dental implants use a ball and socket mechanism to eliminate the need for an abutment. MDIs are half the size of standard dental implants, which means they require less jawbone support.
How painful is a dental implant?
We numb the area where we're working before your implant surgery, so you won't experience any pain. You will feel some soreness as the local anesthesia wears off in the hours following your surgery, but it's usually mild enough that it can be alleviated with cold compresses and over-the-counter pain relievers.
---
---